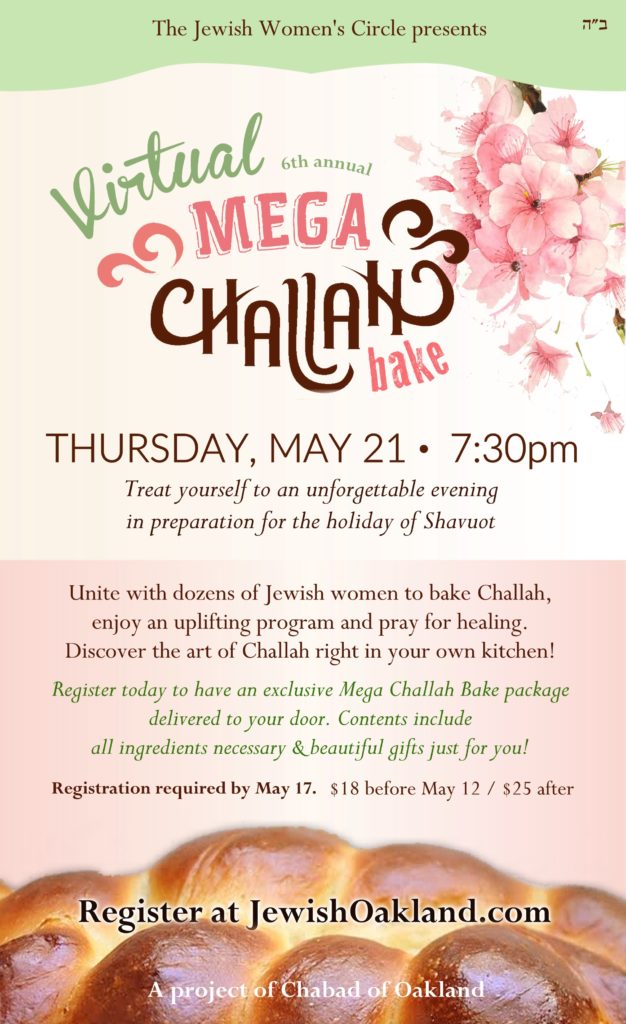 The Jewish Women's Circle presents
The 6th Annual
VIRTUAL MEGA CHALLAH BAKE
Thursday, May 21 | 7:30pm
Treat yourself to an unforgettable evening in preparation for the holiday of Shavuot!
Unite with dozens of Jewish women to bake Challah, enjoy an uplifting program and pray for healing. Discover the art of Challah right in your own kitchen!
Register today to have an exclusive Mega Challah Bake package delivered to your door.* Contents include all ingredients necessary & beautiful gifts just for you!
Each package will include ingredients to make a complete batch of Challah yielding 6-8 loaves. (Don't need so much Challah? Brighten a friend or neighbor's Shabbat by giving them a lovely gift!) One package per household.
Registration required by May 17. Couvert: $18 before May 12 | $25 after.
Buy raffle tickets for exclusive prizes. Prize drawing to be held at the conclusion of the virtual program.
*Deliveries will be made to addresses in the Oakland area.