The Jewish Women's Circle presents the 7th Annual
MEGA CHALLAH BAKE
Sunday, May 15 | 4:00pm – 6:30pm
at the Veterans Hall, 401 Highland Avenue, Piedmont

Treat yourself to an unforgettable afternoon!
Unite with dozens of Jewish women to bake Challah and enjoy an uplifting program, featuring delicious refreshments, raffles and more. Discover the technique, significance and beauty of the mitzvah of Challah.
Prepaid registration required. Couvert: $20 before May 1 | $25 after.
Buy raffle tickets for exclusive prizes! Prize drawing to be held at the conclusion of event.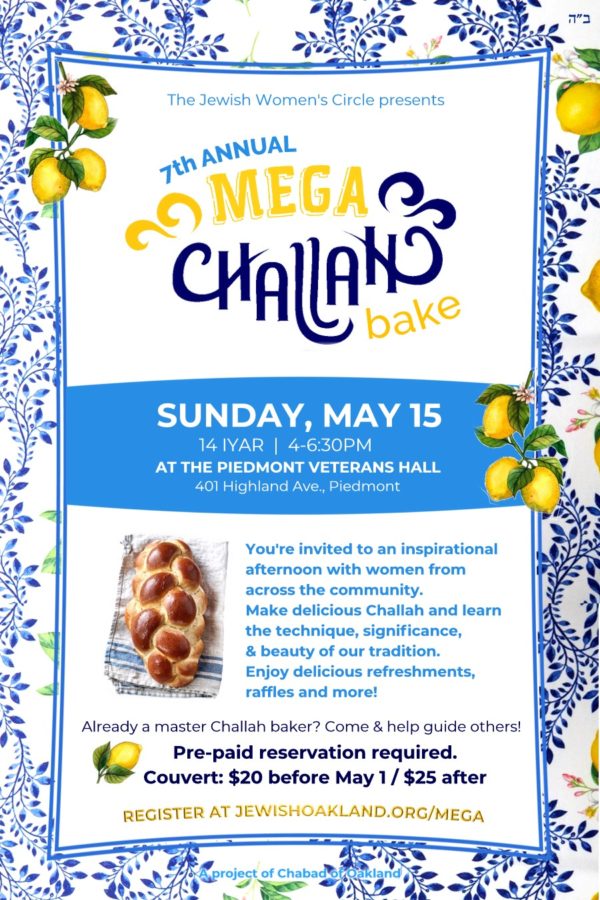 Mega Challah Bake Hosts
Laura Athuil
Adva ben Lulu
Sophie Blanchard
Mindy Berla
April Gruber
Amy Kelly
Shulamis Labkowski
Silvia Matta
Michelle McGilloway
Yasmine Oiknine
Susan Seeley
Naomi Teplow
Ariel Wright
Ronit April Varga